Are you in the market for new shoes? And do you have questions about making the most ethical, sustainable, durable, and fashionable choice possible? Look no further!
The post Put Your Best Foot Forward With PETA's Guide to Vegan Shoes appeared first on PETA.
What Are Vegan Shoes?
You wouldn't put them on a sandwich, but vegan shoes can be made from plants such as mushrooms, bananas, or apples or from synthetic materials like polyurethane (PU), microfiber, or rubber. What makes shoes vegan is that they don't contain any animal-derived materials—such as leather, suede, or wool. Vegan shoes aren't made of animal skin (e.g., leather—which is a coproduct of the meat and dairy industries), hair, fur, wool, or any other animal parts. Cows, who are commonly used for leather, are intelligent beings who understand cause-and-effect relationships. For example, they can learn how to push a lever to operate a drinking fountain for when they're thirsty. Similarly, we as humans can understand that if we buy leather, we're supporting the slaughter of cows.
It's nearly impossible to tell the difference between animal-derived leather, suede, and wool and the animal-free versions of these materials just by looking at them. Vegan shoes are stylish and comfortable and can last a really long time—and they don't sentence animals to a miserable existence and violent death.
How to Shop for Vegan Shoes
Shopping for vegan shoes is easy. You can order them online from vegan companies like Rungg or NAE Vegan Shoes so that you have peace of mind about every ingredient. And if you're shopping at a shoe store or department store, just look for the "PETA-Approved Vegan" logo, used by over 1,000 brands.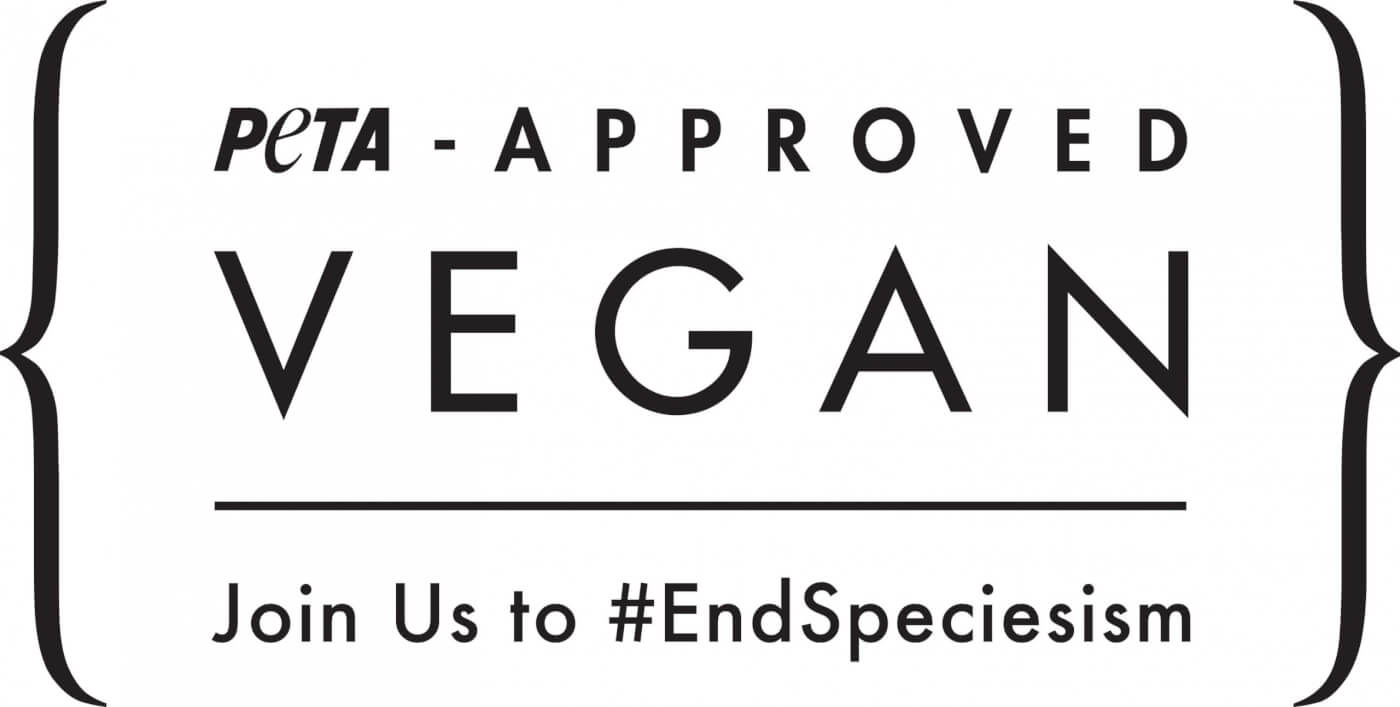 Or look at the symbols on the tag. A symbol shaped like an animal-hide rug means that an item is made from animal-derived materials, and a diamond or crosshatch one means that an item is vegan. Check out our Instagram guide for a breakdown of which materials are vegan and which aren't.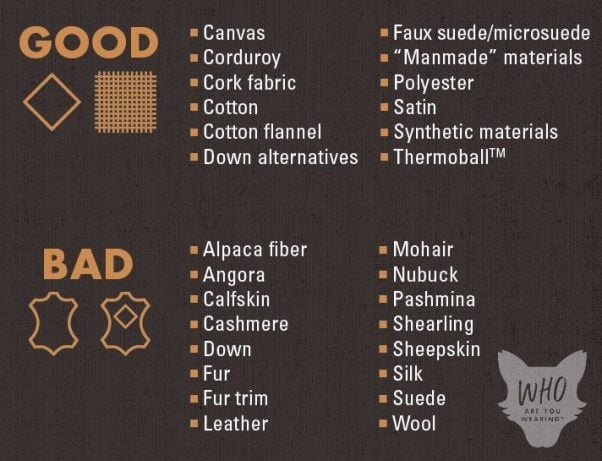 Are Vegan Shoes More Eco-Friendly Than Leather Ones?
The short answer is yes: Vegan shoes are much more eco-friendly than leather ones! The environmental footprint of synthetic leathers made of polyvinyl chloride (PVC), PU, and other poly-composite microfibers is far smaller than that of animal-derived materials. Eco-conscious consumers can also opt for vegan shoes made from recycled plastic or tires, canvas, cork (which is recyclable and biodegradable), coconut waste, and even pineapple. The number of innovative recycled materials and naturally sourced fibers is continually expanding, meaning it's easy to find shoes that are as sustainable as they are ethical.
The production of wool, fur, and leather contributes to climate change, land devastation, pollution, water contamination, and loss of biodiversity. Millions of animals are tormented and killed for their skin each year, despite how devastatingly unnatural it is to use skin to make shoes. That skin belongs on the bodies of the animals it's attached to.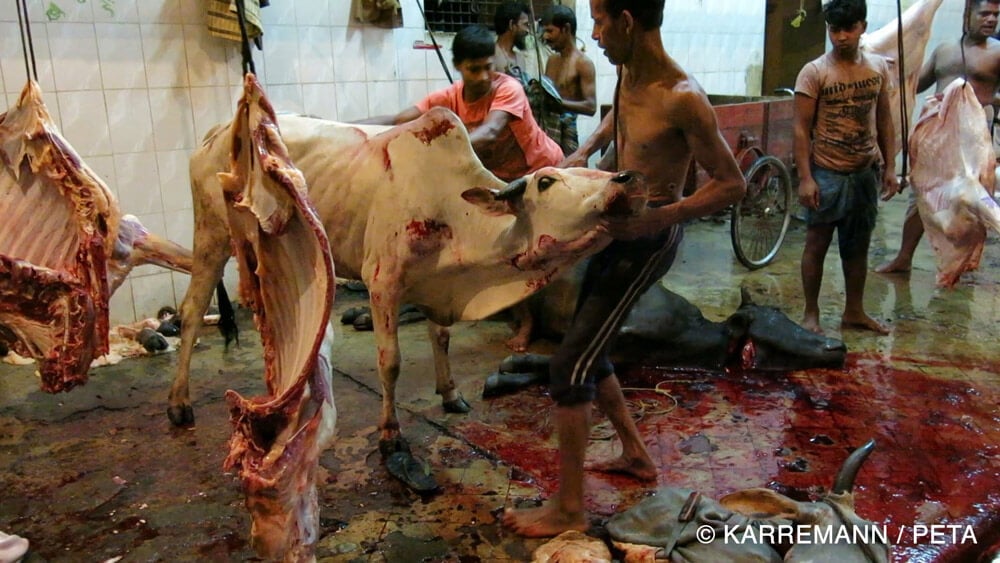 Moreover, the pollution pumped out by leather tanneries has devastating effects on workers and local residents, including animals. To prevent skins from rotting in your closet, the leather industry has been known to use arsenic, formaldehyde, chromium, ammonia, hydrogen sulfide, dyes, finishes—some of them cyanide-based—and other toxic chemicals. Tannery waste contains lime sludge, sulfides, acids, and other pollutants. In addition, much of leather tanning is done in countries that don't regulate the health and safety of workers and other local residents and don't protect the environment.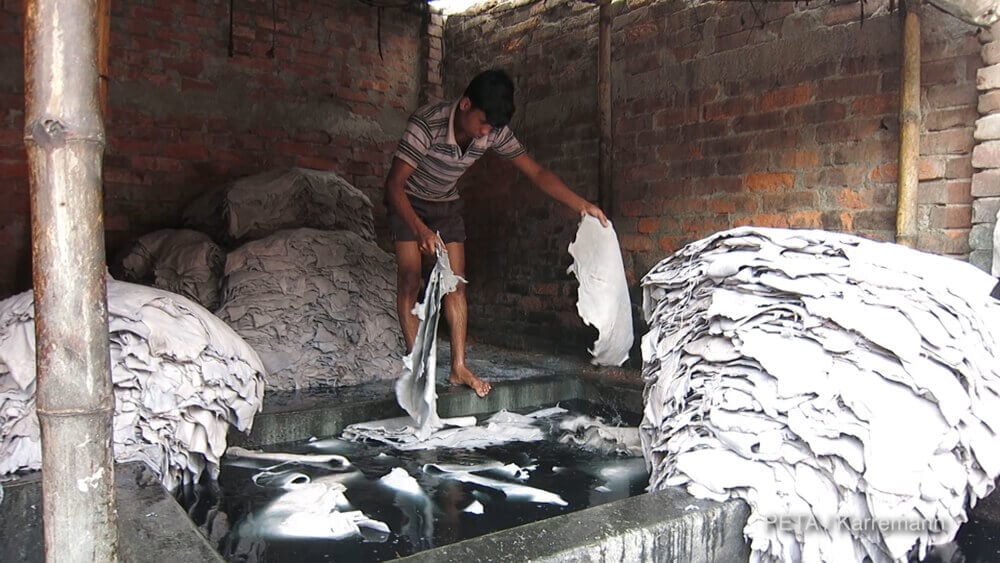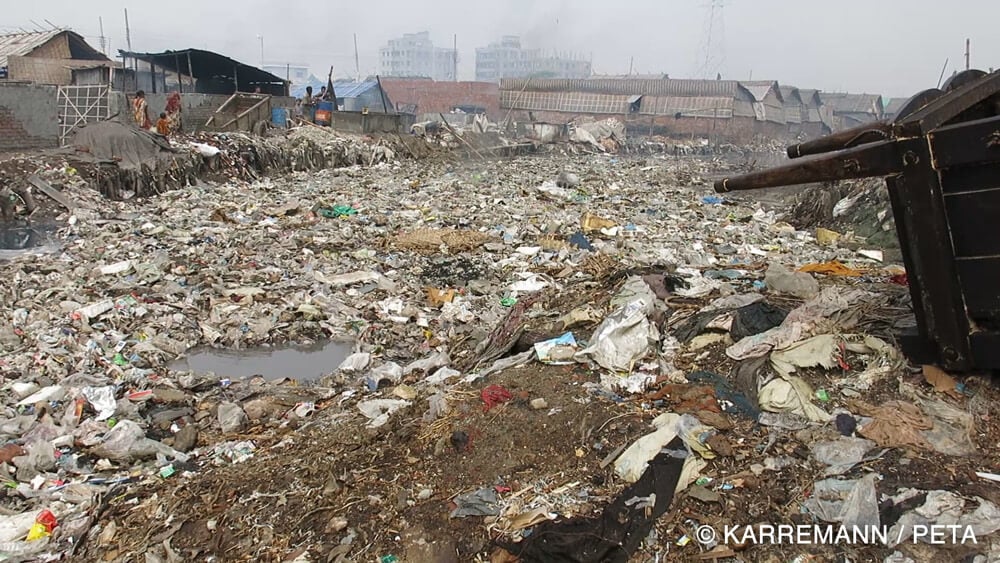 Whether we're talking about leather, sheepskin, fur, or any other animal-derived material, raising and killing animals depletes precious resources and inflicts unthinkable cruelty on cows, goats, sheep, and other animals who only want to live in peace. Did you know that sheep can distinguish among different expressions in humans and can detect changes in the faces of anxious members of their own species? Humans must follow their lead by acknowledging the pain and fear in their cries as they're beaten and mutilated for their wool.
How Long Do Vegan Shoes Last?
As with any product, quality can vary greatly. High-quality vegan kicks are widely available and make for a good investment! The higher the quality, the longer something is likely to last.
While it's best to avoid cheap and unsustainable fast fashion, you can easily foot the bill for nice vegan shoes by shopping secondhand. How well you care for your shoes and how often you wear them will also help determine how long they'll last—but generally speaking, vegan shoes can last for years. PETA staffers swear by the vegan shoes made by Dr. Martens, Will's Vegan Store, Onitsuka Tiger, and Converse. They all hold up really well over time.
Do Any Popular Brands Like Nike Offer Vegan Shoes?
Yes! Tons of vegan shoe options are available from mainstream brands like Nike, Reebok, and adidas.
Nike started using vegan glue in 2015, so you can rely on any new models to be totally vegan (if they're not made of leather). When in doubt about the materials, call Nike and ask about a specific product to make sure it's vegan before you purchase.
What Other Brands Sell Vegan Footwear?
The list of companies that sell vegan shoes continues to grow. From big-name global brands such as Toms, Vans, and New Balance to innovative small businesses like VEERAH, Native Shoes, and PAWJ, it's easy to find fashionable, sustainable, durable, and humane pairs of hiking boots, sneakers, oxfords, sandals, or any other kind of shoe.
So you've got your vegan shoes now—all that's left to do is gather the rest of your ethical ensemble!
Check Out These Eco- and Vegan-Friendly Clothing Brands
The post Put Your Best Foot Forward With PETA's Guide to Vegan Shoes appeared first on PETA.